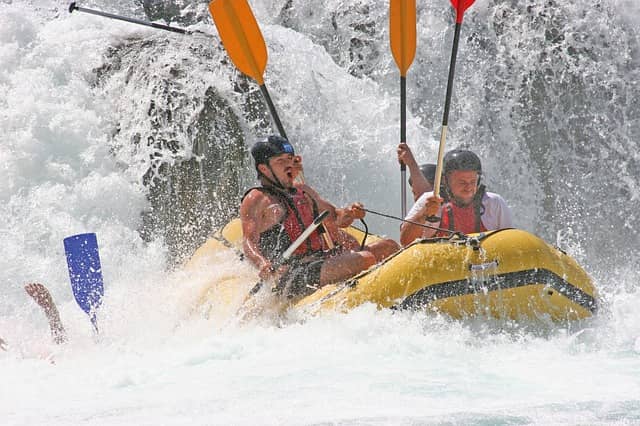 It's the perfect time of year for white water rafting, when the snow has melted and fed into the rivers and glacial waters in the valley. There are plenty of adventures to be had on the water for all ages and experiences – there's a range of different graded rivers and rafting territory to choose from. Choose from a range of different rafting and water sport companies in the Chamonix valley, some of these will also transport you to Courmayeur to raft on the Italian side of the Alps.
Are you ready to get wet and feel the rush of white water rafting this summer? Whether you're a beginner and want to try a tame river or you're craving an adrenaline packed experience, here are the options in the Mont Blanc mountain region.
Chamonix and Passy
If you're not an experienced rafter or you have young children in your group, then you'll want to try out the beginner rapids on the lower grade Dranse River. If you choose the Chamonix experience you should be able to walk to the starting point, and the excursion provider will drive you back in a minibus. Children 10 years and over can take part in the Chamonix rafting trip, but if you have younger children then you'll have to book onto the Passy trip. This route is a little bit calmer and the gentle waters can be enjoyed by anyone aged seven or over.
Courmayeur
Rafting in Courmayeur is not for the faint hearted! You'll ride the action packed waves on the Dora Baltea in Italy – one of the most powerful rivers in the Alps. Your guide will help you navigate the wild rapids of the river and enjoy the roller coaster, but you must be a good swimmer. Many white water rafting companies in Chamonix offer day trips to the Italian side of the Alps with transport included in the price. If you want to raft as a family, bear in mind that you must be at least 15 years old to raft the Dora Baltea.
Ready to ride the rapids? Book a luxury chalet with us and we'll help you organise all your activities. In addition to white water rafting you can also try hydrospeed, canoe rafting and canyoning for an action-packed holiday!