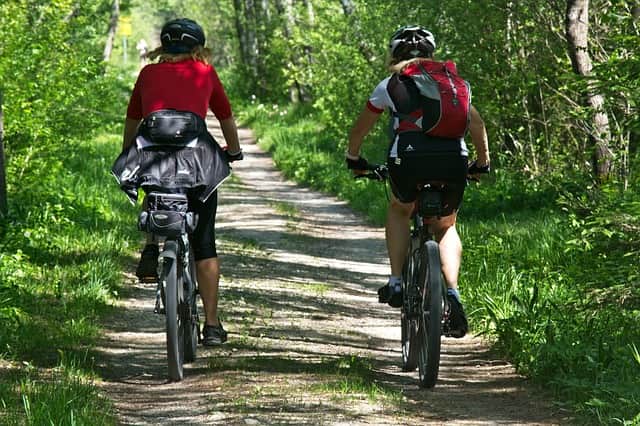 During the summer, one of the most popular activities in the Chamonix valley is mountain biking. Exploring the peaks on two wheels is a thrilling experience, and there are a range of trails for all levels of experience. So whether it's your first time hiring a bike or you have been mountain biking for years, Chamonix and Argentiere are great places to visit and explore at this time of year.
When skiing in Chamonix and Argentiere, there is a colour coded system to help people choose the best slope for their ability. The exact same system is used for the mountain biking trails – the easiest routes are labelled green for beginners, while red is for intermediate riders and black for advanced only.
Here are some of our favourite routes you should try out while you're here in the valley.
Downhill Les Cerfs-Balme
For a thrilling downhill ride, look no further than this breezy route starting at 1850m. Take the Charamillion ski lift up to Le Tour, then freefall down to the bottom and enjoy the ride.
Level: Beginner
MTB Test Trail Les Planards
This challenging test trail starts at Les Planards and finishes at Les Mottets. The difficult uphill route is steep and takes over an hour to get up to Les Mottets. However, the scenery on the 35 minutes back to Les Planards is completely worth it.
Level: Intermediate/Advanced
Petit Balcon Nord ed Sud
These low altitude trails are perfect for the whole family to enjoy. There are many trails which loop together, so you can choose the length of your bike ride. These trails are well sign-posted and you don't need to use any lifts to access them. Why not try the full loop of the north and south trails for a full morning or afternoon of riding?
Level: Beginner/Intermediate
MTB Red Trail Chamonix
This highly technical trail takes you from Chamonix to Tines in an exciting ride with tonnes of variation. Start at the Maison Nordique, bike through Les Tines and Les Praz through stunning scenery before returning to Chamonix via Bois du Bouchet.
Level: Intermediate/Advanced
If you're planning on a mountain biking activity during your stay in Chamonix, we can help you arrange bike hire – just let us know.