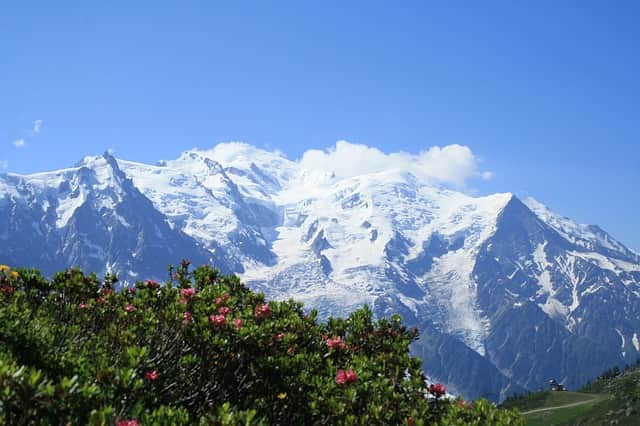 The Chamonix Valley is an amazing destination for hiking, whether you're a seasoned pro or prefer a leisurely stroll. Hiking in summer is a great way to see the mountains up close and take in the breath-taking alpine views of the valley. There are 350km of hiking trails to explore in the valley for all levels of walkers, so what are you waiting for? Time is running out to enjoy the summer hiking season before the snow blocks our path, so read on for our favourite walking itineraries in Argentiere and Chamonix.
There are many lower valley trails you can try if you want to take in the wonderful mountain forests, or alternatively test your stamina and gain some serious stamina. Here's our pick of the best hiking trails in the Chamonix valley.
Cascade du Dard
Take a light walk through the forest to discover one of many cascading waterfalls. You can access the heart of the forest by taking a trail from the Grepon car park. Cross over the bridge and walk up to Les Molliasses. Follow the road leading up to the Mont Blanc tunnel, then take a left. Then cross over the footbridge which will lead you to the mesmerising waterfall.
Level: Beginner
Petit Balcon Nord
Starting from the centre of Argentiere, this path links all the way to Chamonix with fantastic views along the way. From Chemin de Rambles, follow the trail on the right leading into the forest. Passing through the tunnel under the ski piste, you'll soon pass the ruin of one of the oldest houses in the valley, Maison Forte. The winding path will take you through villages, alpine forests and the Plateau le Lavancher.
Level: Beginner/Intermediate
Aiguilles Rouge Nature Reserve Lakes
Take a tour of this wonderful nature reserve and take in the magnificent lacs. It's one of the best places to view the Mont Blanc from the opposite side of the valley. The hike to Lac Blanc takes around two hours and there are facilities and refreshments here to recharge while enjoying the panoramic views. Take the lift up to the next lake, Lac Cornu at 2276m, or for an extra challenging walk head up Lac Noir at 2540m, which is a lovely picnic spot.
Level: Intermediate
The Haute Route
Crave a more serious hiking adventure? The Haute Route, which starts at Chamonix and ends at Zermatt, is for serious hikers only. The demanding hike takes 10 to 12 days and crosses the French and Swiss Alps with incredibly high passes. To complete the route in good time you'll have to walk 15 miles a day and camp out or book a bed in a mountain hut. You'll be rewarded with stunning contrasting views, from colourful meadows to snow-capped glaciers and peaks.
Level: Advanced
Planning a walking holiday? Speak to our Chamonix valley experts.