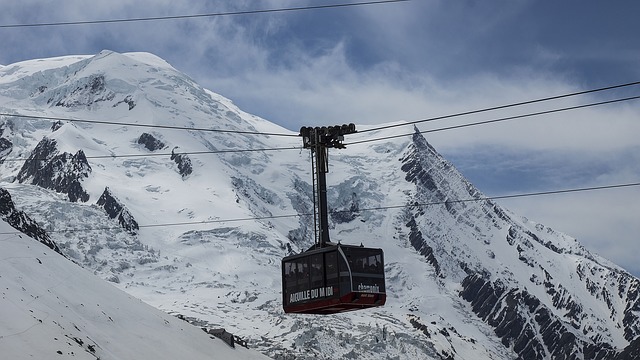 While we love skiing and snowboarding, we understand that it's not for everybody. Luckily, a holiday to Chamonix isn't all about the slopes because there is so much more on offer. If you have a member of the group who is unable to take part or just isn't into skiing, take a look at the range of other activities which are also available. This list is also great for when you've overdone it a bit and your body needs a rest from the hard core exercising.
There is so much to explore in the beautiful valley, here is just a taster of ideas for days out…
Mer du Glace Glacier
Take an exciting ride in a vintage red train up to the Montenvers-Mer de Glace. The track weaves through forests and offers stunning scenic views until you reach the majestical glacier which spans over seven kilometres. When you arrive you can walk on the glacier, visit the ice grotto and even have a spectacular lunch at the Montenvers Hotel before taking the descending train.
Lavey Thermal Pools and Lake Lausanne
Hop over the border into Switzerland and you can enjoy a day of rest and relaxation at Les Bains de Lavey. For a day's entry fee you'll have access to the outdoor thermal pools, saunas and Hammams, with the option for additional extras such as massages. Once recuperated, if you wish you can carry on through the valley an extra fifteen minutes to reach the tourist town of Montreux, located on the beautiful Lake Lausanne.
View From Above
Fancy looking at the jaw dropping mountains of the Chamonix Valley with a bird's eye view? There are a number of options available, ranging from the daring to the leisurely! Take a hot air balloon ride or hop into a helicopter to view the Alpine peaks from above, including the tremendous Mont Blanc. Alternatively if you fancy doing something unique, try paragliding. Contact us to arrange any of these activities for you during your stay.
Chamonix Leisure Parc
For a fun day out with the kids you don't need to travel far. Located at the base of Les Planards Ski Area, you can ride the luge alpine coaster all year round and ski the beginner slopes if you feel like it.
In-House Massage
There's so much to do in Chamonix and the surrounding area, but with a beautiful, warm, luxury chalet you may not want to leave! Our local masseuse is here to save the day, offering massages in the privacy of your own chalet. If your muscles are aching then a professional massage should help them recover so you can get back on your skis as soon as possible.
If you'd like more information about the local area, please get in touch with our Chamonix Valley experts.