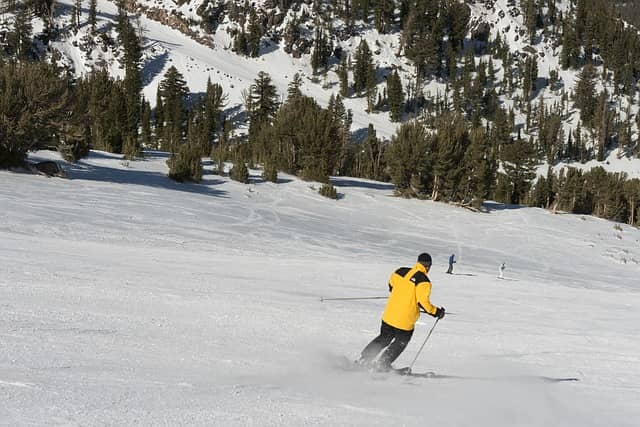 Skiing is fun and exciting, but did you know it's also great for your health? Everyone feels great after a skiing holiday but it seems there's some scientific reasons behind it. Downhill skiing every day can burn calories, tone up muscle and even have mental health benefits too. As if we needed more reasons to love skiing!
We've put together some of the main reasons why skiing is good for your body and mind. Next time you book a ski holiday you can feel a bit better that you've opted for an active holiday over a lazy beach break.
It burns loads of calories
Skiing is really hard work, and when you're at a ski resort you're likely to spend five or six hours a day on the slopes. This vigorous exercise is rewarding, as the MailOnline reports that a typical day of skiing can burn 3,000 calories! That's more than any other gym session can claim, so you might actually end up losing weight on a ski holiday.
Full body workout
When it comes to working all of your muscle groups, surely skiing is one of the best activities. The crouching position needed to glide across the powder obviously works your inner and outer thighs as well as your glutes. Yet the constant motion of balancing also works the abdominals, toning your stomach while you ski. When using the poles to change direction, you're also working biceps, triceps and lower back – so it's a full body workout.
Promotes good sleep
After a full day of skiing, it's impossible to have a bad night's sleep. All of the energy you have used throughout the day walking up the slopes and gliding down you will have to recuperate. Deep sleep is needed for a healthy body, so the fact that skiing promotes a good night's sleep is another health benefit.
Boosts mood and wellbeing
All exercise is good for your mental health as it releases endorphins and makes you feel good about yourself. However, as an outdoor activity skiing has other extra advantages, as the fresh air and vitamin D will further improve your mood and boost your wellbeing. The mountains have a way of dissolving those stresses away.
Next time you're skiing down the mountain, remember you're actually improving your health at the same time. Maybe you should go skiing more often!