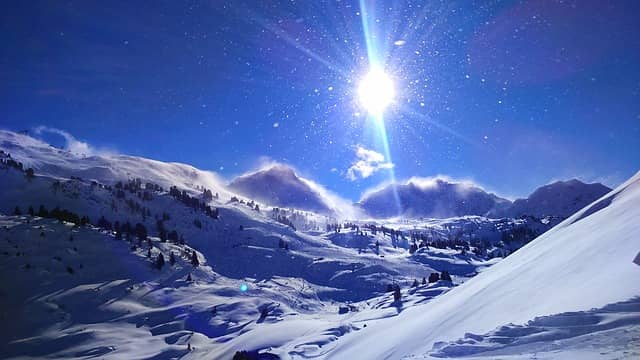 To many people, a spring break means sunshine and bikinis, relaxing on the beach and soaking up the early rays. However, if you like activity packed holidays and adrenaline fuelled breaks, then why not choose something different this spring? It's not too late to go skiing if you know where to find the snow!
Resorts with high altitudes such as Chamonix in France have late snowfall, so you don't have to wait until winter to go skiing or snowboarding. With loads of bank holidays to enjoy, why not book a ski break as your spring holiday? Spring can also offer better skiing conditions than winter, and lower prices for lift passes. Here are the top five reasons for going skiing this spring.
Bluebird Days
Dreaming of those bluebird days with perfect skiing conditions? You'll often find these in spring, with bright clear blue skies, fresh snow and warmer temperatures. It's more fun skiing on these types of days than in a winter blizzard – plus you still might catch a tan.
Longer Days
One of the biggest benefits of skiing in spring is the increased daylight. You'll enjoy longer days than winter, meaning you can have longer on the slopes. Improve your skills morning, noon and evening.
Quieter Slopes and Lifts
Many resorts start to slow down around March and April time, which means you can forget about long lift queues. With less holidaymakers, you'll be able to take full advantage of the slopes as you won't be sharing them with hundreds of other people at this time of year.
Stay Active
You'll probably be going on a relaxing summer holiday, so rather than having two lazy breaks why not have an active spring holiday? Skiing is a great way to keep fit and tone up, as well as improve coordination. It's also a really fun way of staying active for all the family.
Closing Parties
The last reason to visit a ski resort in spring is the closing parties. As the slopes close for the warmer months, you might get to enjoy a wild closing party as part of your break. What more could you ask for?
Basically, skiing in spring means a lot more time to ski. With longer days and less people to share the powder with, it makes perfect sense to book a spring ski holiday.