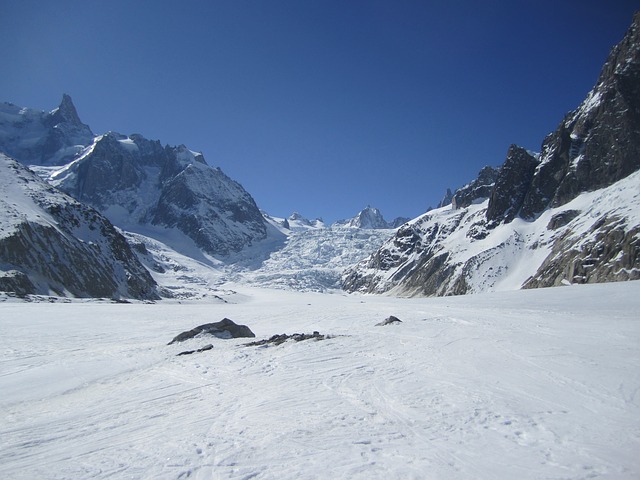 The Vallee Blanche is one of the most infamous off-piste ski descents in the world, and ending in Chamonix town centre it's also one of the most convenient routes. The glacial ski route is unequalled elsewhere in the Alps, meaning the off-piste descent is a must for advanced skiers. Extending over 23km, the vertical descent starts at 3812m at Aiguille du Midi lift station, and offers untouched stunning mountain scenery all the way down.
There are several routes you can take down the Vallee Blanche, depending on your ski capability and off-piste experience. You should never underestimate the mountain, so if you're not 100% confident descending alone in wild terrain then there is always the option of a mountain guide who can help groups through the route.
Do I Need a Guide?
The decision to hire a guide when skiing The Vallee Blanche will depend on a range of factors, including your ski level and the route you wish to take. The weather and snow conditions can also make the descent more challenging – you may get a mixture of a firm base, deep powder and icy moguls. While guides are not compulsory, many advanced skiers still hire one if they are not familiar with the route.
Intermediate skiers should only attempt the descent with a guide. If you have never tried off-piste skiing before, then it is not recommended to descend the Vallee Blanche before having some lessons and gaining experience in different snow conditions.
If you choose to go it alone, then be aware that there can be an avalanche risk and there are other dangers to know about when undertaking off-piste travel. For example, you'll need to wear a harness in the event of a crevasse rescue.
The Routes
Classic Descent – the easiest way to ski down the Vallee Blanche which bypasses the steepest sections. Suitable for intermediate skiers, you'll ski over glaciers through several impressive peaks.
Gros Rognon – a variation of the classic descent, still suitable for intermediate off-piste skiers.
Petit Envers du Plan – this route requires good off-piste technique as it involves some steep descents. You'll also get to pass some awesome glacial formations.
Grand Envers – one of the most difficult but most rewarding runs in the Vallee Blanche. Only suitable for advanced skiers with complete control and off-piste experience.
Food and Refreshments
It takes all day to descend, so you need to be prepared. You can take a packed lunch, or many skiers choose to stop off at the Requin hut next to the glacier. There is also a café at the top and bottom of the routes, so there are a few options if you don't want to have to carry food with you.
Need more information about this off-piste opportunity? Contact us before your stay and we'll help you arrange skiing the Vallee Blanche.