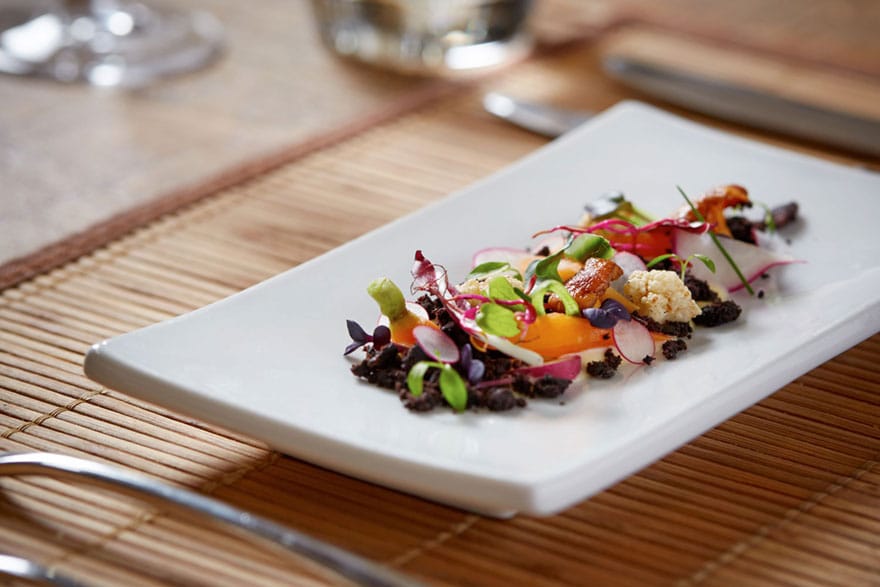 World renowned for its fantastic skiing, the resort of Chamonix is also highly regarded for its divine gastronomic experiences. When it comes to French cuisine, Chamonix has it covered with a number of Michelin star restaurants and famous head chefs flocking to the area. However it's not all about fine dining – there's a vast range of hotels, restaurants, cafes and casual chalets which offer a different atmosphere and a display of specialities from all over the globe.
The culinary scene in Chamonix has long been attracting foodies as well as snow sport enthusiasts. Take a look at Marmotte Mountain's pick of the best, with our list of the top must visit restaurants in Chamonix.
Albert 1er – fine dining
This beautiful establishment is nestled in a five star hotel and is a gourmet restaurant with a stunning a la carte menu. With two Michelin stars to its name, expect only the best dishes at Albert 1er. The cuisine is inspired by the traditional fare of the French and Italian Alps, and uses local, fresh ingredients. It's not just the food that's exceptional at Albert 1er – the restaurant is also accompanied by a vast wine cellar housing 19,000 bottles of the good stuff, so you can perfectly match a vin blanc or vin rouge with your meal.
La Crèmiere du Glacier – authentic cuisine
This little hut on the Argentiere Glacier is an absolute must visit if you want to sample the local Savoyard cuisine. Traditional food from the Mount Blanc region is served up at La Crèmiere du Glacier, and it has become a staple in its own right with history dating back to the 1920s. Try the mouth-watering fondues, delicious local gratins or the world famous croutes. Or, if you can't decide on a delicacy just try them all!
Les Vielles Luges – mountain views
For fantastic food right up on the piste, look no further than Les Vielles Luges on Les Houches. This charming little restaurant is extremely popular in the winter as the best way to access it is on your skis. However it's also great to walk there in summer as they have an award winning garden to enjoy your drinks in.
Hibou Deli – cheap eats
Located in the centre of Chamonix, this lovely little deli is a hidden gem. Hibou's menu is inspired by exciting world flavours and offers plenty of healthy options. Fresh and tasty, you can eat here for lunch or dinner and choose whether to sit in the stylish restaurant or take it away to enjoy in your luxury chalet.
If you'd like any more recommendations for restaurants or bars during your stay in Chamonix, just get in touch with our friendly local experts.